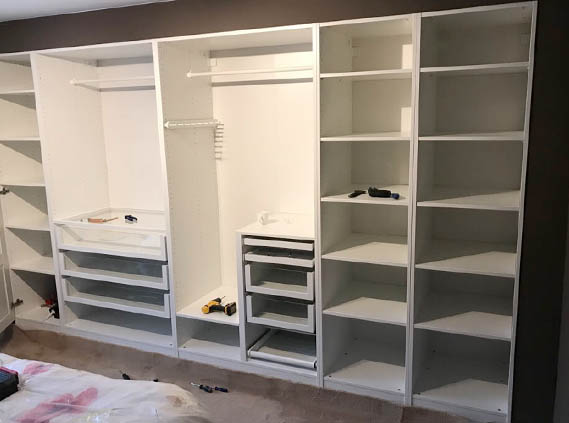 Bespoke Built in wardrobes
Are you fed up with limited wardrobes space? Lew Prop Construction is here for you!  Able to design, build, and install innovative and space-saving built in robes we can improve the quality of life for homeowners living throughout Johannesburg's metro area. With our personalized designs we can deliver bespoke built in wardrobes for Johannesburg homes of all shapes and sizes and all for a competitive price.
Our unique installations and specializations revolve around storage management science and wardrobe resolution systems, along with our customer's specific desires and requirements. By combining all of these factors and considerations our team can deliver an award-winning solution that gives our customers the best value for their money.
At Lew Prop Construction we are dedicated to giving our customers the best results. To ensure that all of their needs and desires are met we go through a methodical design, fabrication, and installation process. This approach ensures that we consistently deliver the best built in wardrobes Melbourne has to offer. Incorporating the latest designs and trends into our installations we can add value to your home with minimal stress.
Custom Built in wardrobes in johannesburg
Wardrobes are staples of any bedroom, and they serve as an important design element that can make or break your room decor. The four most common types of wardrobe include free-standing wardrobes, fitted sliding door wardrobes, built-in wardrobes and walk-in wardrobes, but there are many permutations of these designs that you can choose from.
At Lew Prop Construction, we offer custom wardrobes in Johannesburg for people who want functional and stylish wardrobes that complement the aesthetics of their bedrooms and enhance the overall architectural design of their home. Depending on your needs, our specialists can also provide custom shelving, cabinets, and melamine doors and panels.
Tailored and Personalised Results
At Lew Prop Construction, we understand that no two home owners have the same needs. That's why we take the time to understand and accommodate your individual requirements. We're fully capable of designing, manufacturing and installing high-quality Johannesburg custom wardrobes and storage solutions that meet your needs and exceed your expectations. Whether you want stand-alone wardrobes or built in wardrobes in Johannesburg, our highest priority is to ensure you'll love the end result.