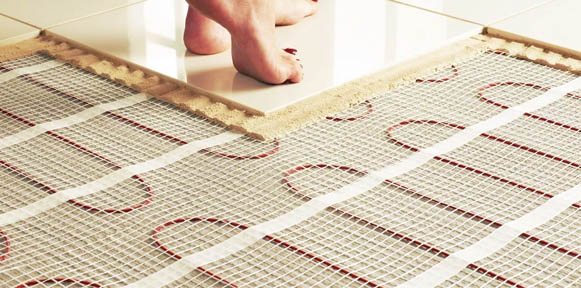 Electric Underfloor Heating installation in Johannesburg
When the temperature drops in Johannesburg, how do you keep the chill off your floors and maintain warmth and comfort in your home? It's easy when you have electric underfloor heating, which helps keep floors toasty warm while maintaining consistent heat throughout entire spaces.
At Lew Prop, our expert installers use the most trusted electric underfloor heating systems that are manufactured according to the highest standards of quality. When installed appropriately, such a system can serve as an efficient primary source of heating for your home or commercial property. It can also be a suitable secondary heat source if you already have a conventional heating equipment installed.
An electric underfloor heating installation in your house or business property is pretty straightforward and easy to accomplish. They can either be incorporated into new structures or retrofitted into existing homes and buildings.
The heating elements of an underfloor heating system are made of non-corrosive materials that come in several different forms, including mesh, mats, cables, and carbon films. These components are installed within the floor itself—on top of a substrate material like concrete or wood, and underneath the final floor finish. It is usually isolated from the main substrate by a layer of damp-proof material and another layer of insulation.
An electric underfloor heating system is also equipped with temperature control options for each room so you can always have the perfect heat settings according to your preferences.
Get the Best underfloor heating installation in Johannesburg
Providing luxurious warmth and consistent heat to your home or business property in Johannesburg is easy, thanks to the availability of electric underfloor heating systems.
At Lew Prop Construction, we aim to provide you with the most reliable heating solutions that will fit your unique needs as a property owner. Our electric underfloor heating experts are highly knowledgeable about the subject matter and will be more than happy to guide you through the entire project—from determining the best system for your property to completing the installation process.
Contact us today for a quote or call +27 11 048 2443 for more details.